Bishop Prince Earl William Bryant, Sr.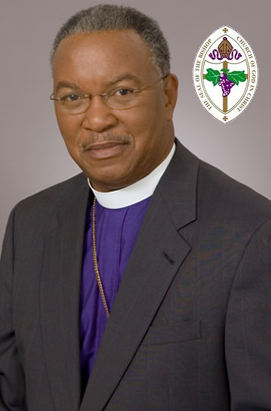 Bishop Prince Earl William Bryant, Sr. is a native of East Texas. He is the fifteenth child of Deacon Bishop and Mamie Bryant. He began preaching at the age of 15 under the late Elder Eddie Davis. He was licensed under the late Bishop C.H. Nelson and ordained by the late Bishop S.M. Crouch of Los, Angeles, California.
Bishop Bryant was saved and called to the ministry in the month of March 1963. He has been preaching and pastoring for more than forty-four years. He is not only a dedicated pastor, but he is also a church builder. During his tenure as a pastor, he has been assigned to six churches and has remodeled or built three of them. He is a former State Young People Willing Worker President, District Superintendent, Jurisdictional Executive Secretary, and Administrative Assistant to the Jurisdictional Bishop, Bishop N.H. Henderson.
Nationally, Bishop Bryant has served the Church of God in Christ as a member of the General Assembly Executive Committee, Commissions for Constitutional Convention Committee, and General Council of Pastors and Elders Judiciary Review Committee.
He currently pastors The Island of Hope Church of God in Christ, formerly known as Anderson Memorial Church of God in Christ, Houston, Texas.
Bishop Bryant is also actively involved in the Ecumenical and Civic Community. He has served two terms as President of the Mayor's Advisory Board to the Mayor of Houston and the Community Relations Consultant to the Houston Police Department and other boards and commissions.
Meritorious Services to the community include public service awards, distinguished service awards, and proclamations received from the White House, Governors, Mayors, Congressmen too numerous to mention.
He received his formal education at Concord High School in Mt. Enterprise, Texas. He furthered his education through LIFE Bible College, Houston, Texas and the Family Bible Institute in Denver Colorado where he received his Doctor of Divinity Degree.
He is married to Mrs. Yolanda Howard Bryant. They are the parents of five children, Supt. P.E. Bryant, II., Dommonique Jeannie, Phillip Paul, Desmon Ryan, and Tymorra Mishon Bryant. In addition, they are the grandparents of Prince E. Bryant, III., Paiton Anise and Pierce Edward O'Neal Bryant.